It has been said that the humble washing machine transformed the structure of society even more than the internet, as it eased the domestic burden placed primarily on women.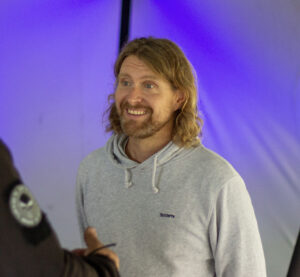 However, smol chief creative officer Matt Gandy points out that – like many social transformations – this revolution has come with a price, as most modern cleaning products are ridden with plastics and chemicals.
A keen surfer, Gandy says he sees plastic washing up all the time, describing the amount he finds as "really, really shocking".
"Five years ago, it didn't feel like there were any alternatives," says Gandy, who joined former Unilever employees and smol founders Nick Green and Paula Quazi in 2018.
"I was working in agencies trying to move big brands in to more sustainable alternatives, but there were always barriers," he explains, adding that the companies would always come up against supply chain issues or simply the fact that plastic is cheaper.
"So they'd say sorry, but this is the way we're going to go. I just knew there was a better way."
And he was right. On smol's official website, a tracker shows how many tonnes of plastic and chemicals have been saved by consumers switching to its products (1,637 and 4,147 respectively, at the time of writing).
The smol revolution
Describing itself as a 'revolution in home cleaning', smol has put itself firmly on the eco-friendly consumer map over the past four years.
The theory was simple – to offer cleaning products which are natural, planet-friendly and chemical-free, in packaging which was either refillable, compostable or easily recyclable. Launching initially as a subscription-based direct-to-consumer brand, the sustainably packaged cleaning products were simply delivered directly to the door whenever customers needed them.
Unsurprisingly, smol was a hit.
But it was an aggressively successful social media campaign (offering a free trial to get shoppers on the hook) which took smol to the next level, making the eco-friendly challenger brand a household name. It currently has a devoted fan base, with more than 142,000 followers on Instagram and a further 172,00 on Facebook.
New product development is ongoing, with Gandy continually creating new products and improving what's already on offer. One of the most notable additions is a plastic-free box for laundry pods made entirely from FSC-approved cardboard.
The real challenge didn't lie in removing the plastic, it came in the form of creating a cardboard version of the child lock which all liquid capsules are required to have by law. It took a year to get there but it was worth it and now, Gandy says it's the thing he's most proud of.
Eco-innovation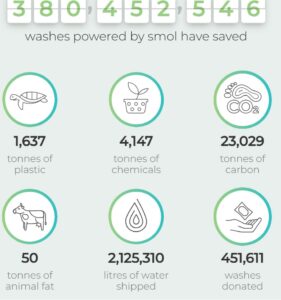 Although initially smol focused on laundry pods and other cleaning solutions, it has expanded its offering over the last four years, branching out to personal care products like plastic-free antiperspirant in a cardboard box and toothpaste in a recyclable aluminium tube.
While there are plenty of other non-traditional deodorants available – Wild and Fussy to name just two – Gandy feels smol's offering is filling a gap as it looks to reduce both waste and chemicals wherever possible.
"In the sustainable deodorant market there's not actually a lot of antiperspirants. They're all deodorants which do a good job of masking smells, but they don't actually stop them like this does."
Given that the plastic and chemicals found in conventional deodorant pollutes the planet for years after you've "wiped it in your pits", Gandy sees this particular issue as an "awesome problem to solve".
He gives sodium lauryl sulfate as an example of a chemical which – while considered to be biodegradable, can cause skin irritation and in large concentrations will damage the environment. Typically used to produce suds, it is not an active cleaning ingredient in laundry capsules and is added to them primarily for cosmetic reasons.
Unlike many brands, smol has never used the chemical in its laundry capsules, and only uses it in other products where necessary.
---
Subscribe to Sustainability Beat for free
Sign up here to get the latest sustainability news sent straight to your inbox everyday
---
View this post on Instagram
All of smol's products are also vegan and approved by Leaping Bunny, the international gold standard for cruelty-free consumer products.
"We absolutely never test on animals – that really is the ethos of everything that we do, both as people and as a company", said Gandy.
Instead, smol tests its products on humans in the real world. It has a strong network of around 12,000 customers, called the Smol circle, which it uses instead for all its testing and feedback needs.
Keeping it simple
Gandy explains that when the company began, it started off only selling direct to consumer, although that is starting to change now.
More recently, the brand has been listed in Sainsbury's, as part of its future brands scheme which sees new and innovative brands being paired with a growth partner.
"We initially wanted to be really simple, go straight to where people needed us and offer that additional layer of convenience. Sainsbury's a great test ground for us though because it opens us up and puts us in front of new customers that haven't necessarily seen us yet."
One of the benefits of being primarily direct-to-consumer is to avoid the overheads of the traditional retail model.
"Our benchmark is to make sure that when brands are not on promotion we're at parity," explains Gandy, "There are more alternatives coming to the market these days – but it's no good releasing these more sustainable alternatives if they don't work or if they're really expensive."
Converting a smol step into a giant leap
Gandy has big ambitions for smol, but recognises that the brand – and others like it – have a significant journey ahead of them.
When smol first launched its plastic-free boxes, it was considered to be 'pretty cutting edge' stuff – and Gandy sees the changes happening across the wider industry as testament as to the success of smol's internal design team.
He believes it's "hard to know" how much legislation would help move things along faster but is adamant that brands help force change by leading the way forward.
"The government was trying to do it with the plastic tax," he says, referring to the recent legislation which taxed packaging containing less than 30% recycled plastic. "But that was focusing on virgin plastics, so it's not going to shift the dial much".
"When we started out, we were the only brand doing this, but three years later the big brands have shifted," Gandy continues.
"Often it's seeing the smaller brands showing consumers that it's possible to make these big changes, which in turn forces the big brands to follow suit…"
And it's true. The more consumers see smol and other more planet-friendly brands spread beyond the D2C market and onto the supermarket shelves, the more major brands and retailers are likely to follow suit.
What started out as one smol step has now got the potential to go much further.